A unique line of molecular hydrogen-generating capsules
RECOVERY H2™
Accelerated regeneration
Accelerates muscle tissue recovery following athletic performance
Hydration of the body
Hydration of the body significantly affects not only endurance, but also the strength of an athlete.
Anti-stress effect
Contributes to easier stress management and better sleep quality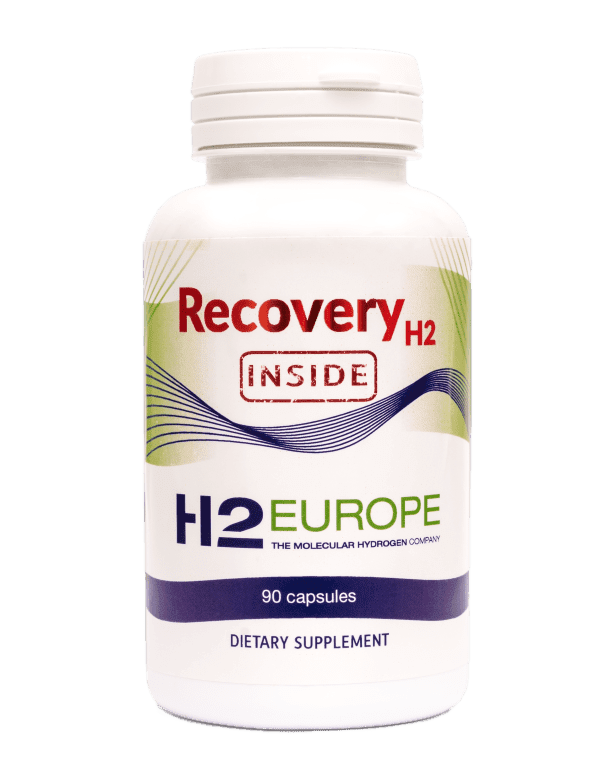 Prevention of hyperacidity
Molecular hydrogen alkalizes at the cell and tissue level
Benefits your beauty
Eliminating free radicals slows down ageing
Improve overall fitness
Accelerates recovery, promotes better oxygenation of the body, provides an immediate feeling of energy and invigoration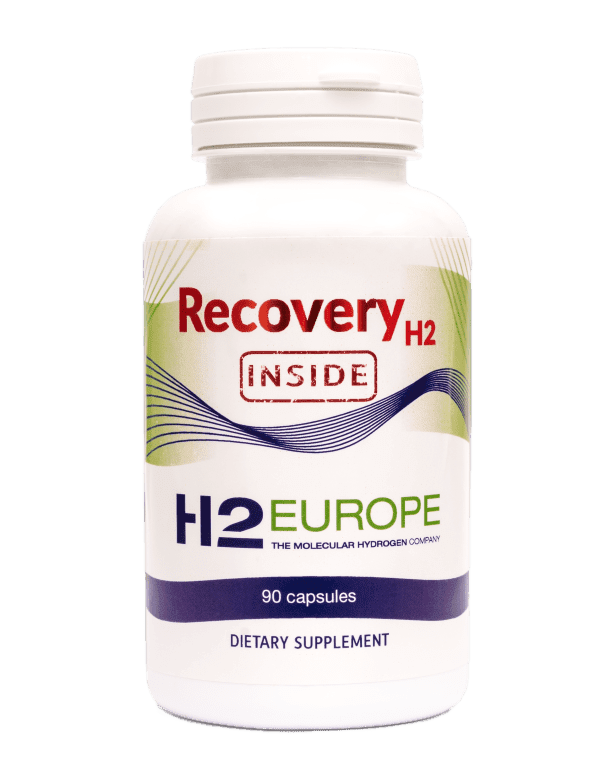 Dietary supplement for internal use
RECOVERY H2™ INSIDE
Recommended retail price: CZK 1,300 / EUR 50
Revolutionary molecular hydrogen-releasing capsules. Molecular hydrogen accelerates the regeneration process, improving overall fitness and vitality.
Package size: 90 capsules
Daily dosage: two to nine capsules during the day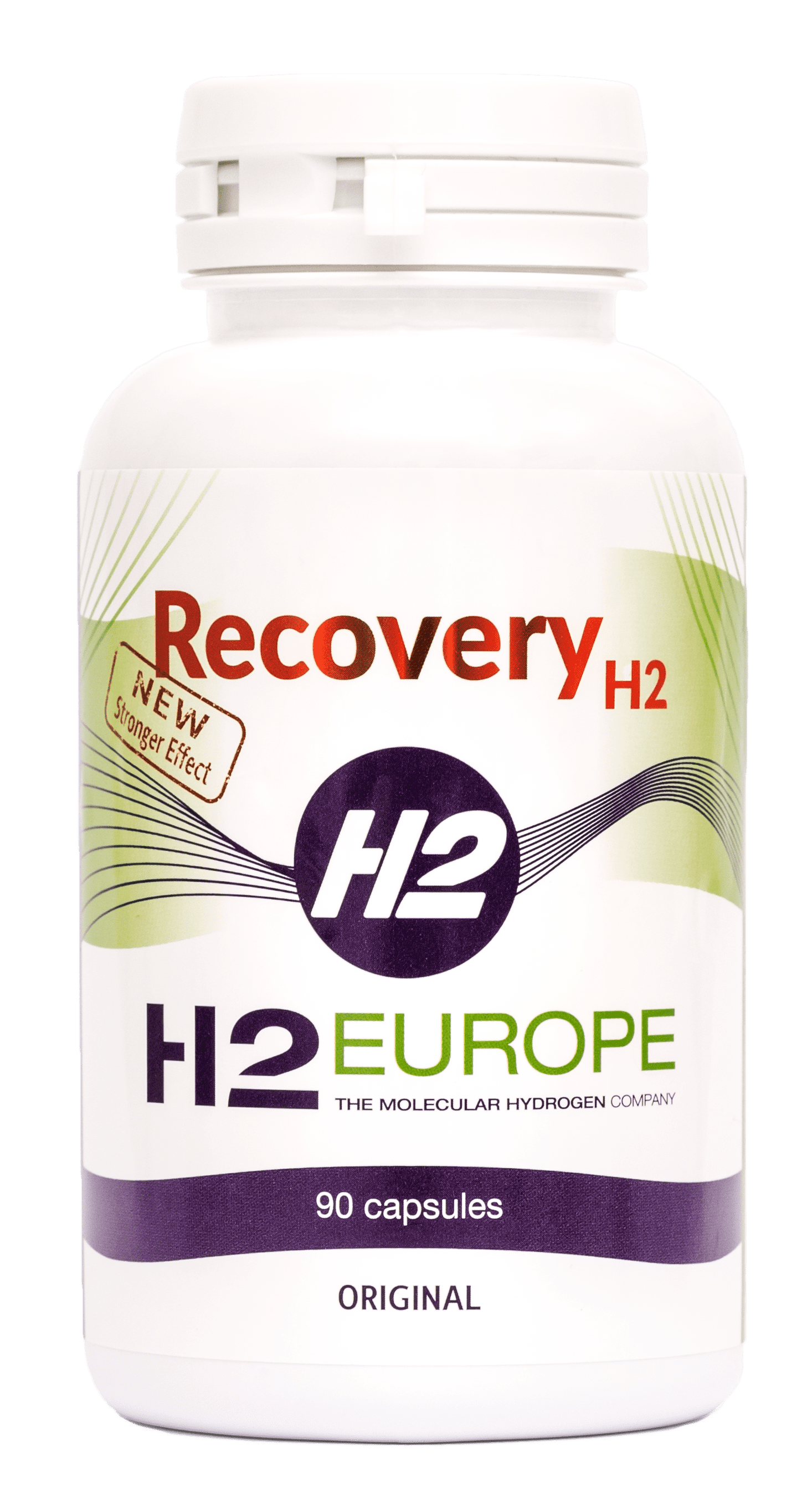 Mineral water treatment capsules
RECOVERY H2™
Recommended retail price: CZK 1,330 / EUR 50
Recovery H2 are capsules that release molecular hydrogen on contact with water. Hydrogen-enriched water can then be used in various ways – compresses, bath, spray, etc.
The capsules are intended for external use in water only.
Package size: 90 capsules
Daily dosage: one or more capsules, dissolved in water.
WOULD YOU LIKE TO GET FREE SAMPLES?
Still hesitant about purchasing? We offer you the opportunity to try selected products for free. Simply contact our customer support, provide your delivery address and we will send you a sample of H2 Inside or SiberActive products completely free of charge.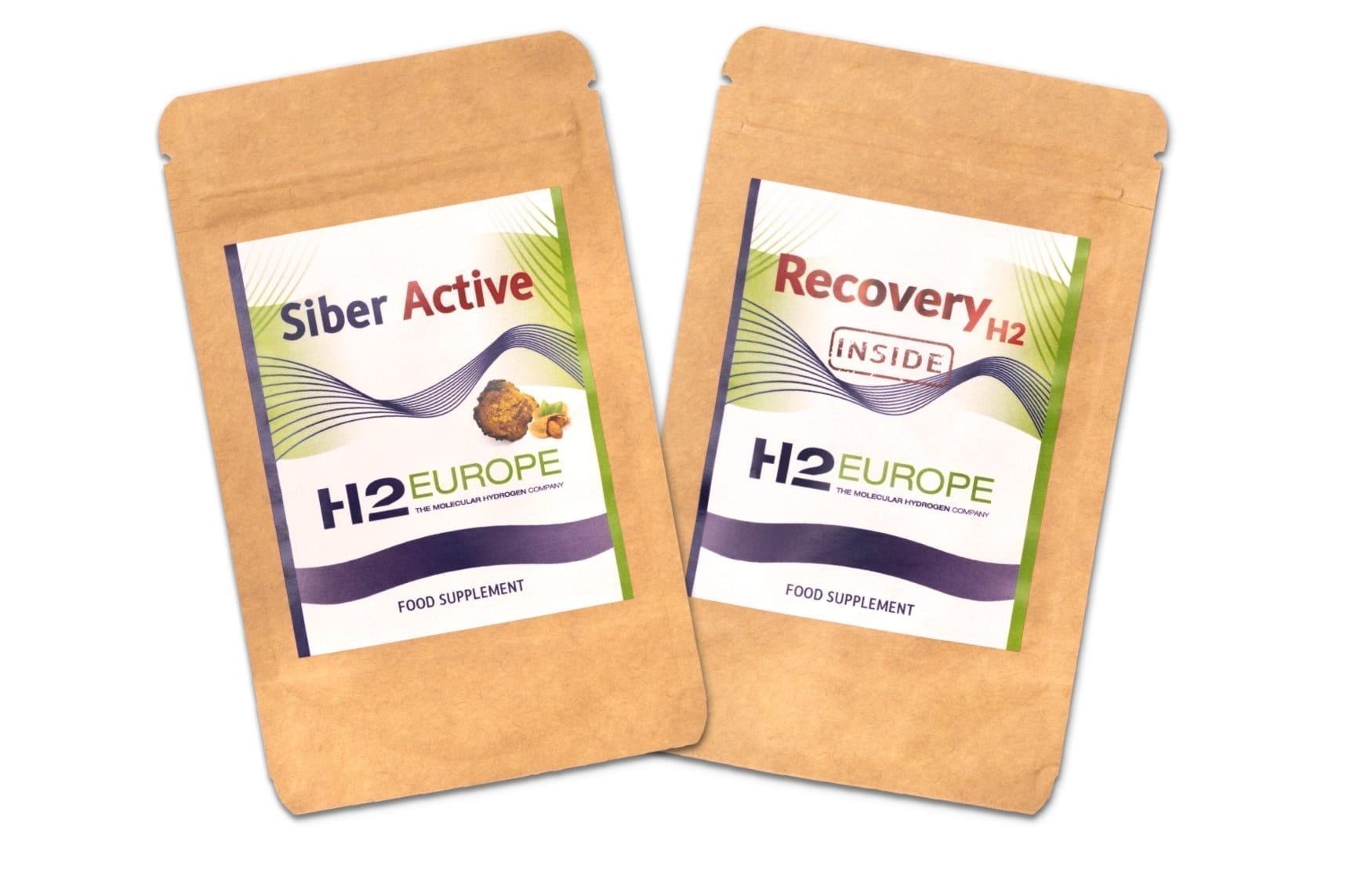 MEET MOLECULAR HYDROGEN
"ORDINARY" HYDROGEN WITH EXTRAORDINARY EFFECTS?
Hydrogen is the simplest chemical element, found everywhere in nature. Molecular hydrogen is a molecule that occurs naturally in our bodies, produced by the gut flora. However, our body's production of molecular hydrogen is not fully sufficient, given our current environment and the conditions we live in.
Hydrogen molecules are extremely small and are able to pass unhindered into different parts of the body. Molecular hydrogen is able to penetrate all the biomembranes – the cell membrane, the membrane of the cell components, even reaching the cell nucleus, so that its function takes place directly in the cell. This is important in terms of destroying free radicals directly at the site of their generation. Free radicals are the molecules responsible for the development and progression of lifestyle diseases. This shows the advantage of molecular hydrogen over any other antioxidant, whose molecules are large, cannot reach the interior of the cells and have to wait for the free radicals to come out in order to capture them. Their effects have a slow onset, in a matter of weeks to months, while the free radicals, on the other hand, get plenty of time to cause damage.
THE POTENTIAL OF MOLECULAR HYDROGEN USE
Research on molecular hydrogen is still running dynamically, especially in Asian countries, yet many studies do not hesitate to describe molecular hydrogen as already being an innovative tool in promoting regeneration. The areas in which molecular hydrogen can be used are vast and keep expanding continuously according to the latest research results on its capabilities.
According to scientific research, molecular hydrogen can have a positive effect on:
 speeding up muscle tissue recovery following athletic performance
 hydration of the body
 improving overall fitness and vitality
 hyperacidity of the body (through alkalization at the cellular and tissue level)
Customers and partners who register at www.h2europe.company get access to discounts of up to 30% off the retail price of the products.